>
Tennis
Novak Djokovic defeats Nick Kyrgios to claim seventh men's Wimbledon singles title
Novak Djokovic defeats Nick Kyrgios to claim seventh men's Wimbledon singles title
Novak Djokovic defeated Nick Kyrgios on Sunday in the Wimbledon final to claim his fourth consecutive, and seventh overall, men's singles title. The Serb beat Kyrgios 4-6, 6-3, 6-4, 7-6 (7-3) on Centre Court.
The 35-year-old Serb is now only one win away from matching Roger Federer's eight-win record. Also, with his 21 Grand Slam tally, he is one Slam behind Rafael Nadal's record of 22 majors and one ahead of Federer.
"I'm lost for words for what this tournament and this trophy means to me," said Djokovic after the match. "It always has been and will be the most special one in my heart."
- Novak Djokovic
Kyrgios is crazy but the joker is wild
Kyrgios, a 40th-ranked player, lost his concentration when a fan shouted, "where is Peng Shuai?" Kyrgios demanded the fan be removed from the venue for distracting him, forcing the match into a brief stoppage.
"I'm just not supposed to be here. I'm a kid from Canberra. Literally, a month-and-a-half ago, I was playing basketball with some boys back home and I said, 'look, I think I'm going to have some fun and maybe win Wimbledon.' I look back at it, and I'm just like, 'How am I here?' You know, it's pretty cool."
- Nick Kyrgios
Wimbledon Bromance
"It's officially a bromance," he said. "You showed you deserve to be the best in the world, especially on this surface after this tournament. I wish you all the best."
"It's officially a bromance"

🗣️ @DjokerNole pic.twitter.com/FAOfia0AV7

— Wimbledon (@Wimbledon) July 10, 2022
"First of all congratulations to Novak and your team. You've won these championships that many times. I don't even know anymore," Kyrgios said. "I'm really happy with this result, and maybe one day I'll be here again, but I don't know about that."
I think she was over the limit
700
Kyrgios complains to umpire Renaud Lichtenstein and demands fan be removed for distracting him while serving.

"It's the one who looks like she has had 700 drinks"
pic.twitter.com/tPNYgJTHOP

— Pardon My Take (@PardonMyTake) July 10, 2022
Will Jokovic receive a medical exemption for the us open?
Despite refusing to receive a Coronavirus vaccine, Wimbledon champion Novak Djokovic hopes the United States authorities will change entry rules so he can compete at the U.S. Open. At this time, he will not be allowed into the United States to play in the tournament, which begins next month, due to his unvaccinated status.
"Because the principles of decision making on my body are more important than any title."
~Novak Djokovic pic.twitter.com/iRLOjFcRNo

— James Melville (@JamesMelville) July 11, 2022
"These politicians are getting in the way too much. They did it in Australia. Let's let the guy come in and play in the U.S. I mean come on. This is ridiculous," McEnroe said while Djokovic waved to the crowd at the All England Club. "But I don't make those decisions. I hope someone makes the right one and allows him to play. That's my personal opinion."
- John McEnroe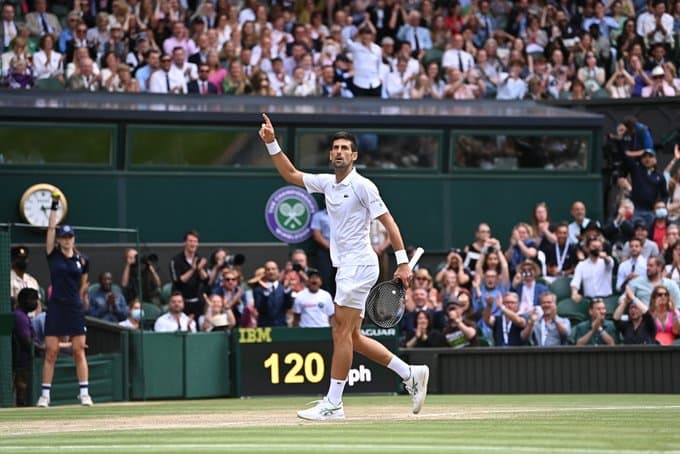 Nick Kyrgios

Nicholas Hilmy Kyrgios is an Australian professional tennis player. In singles, he has a career high ATP singles ranking of world No. 13, achieved on 24 October 2016.

wikipedia

Novak Djokovic

Novak Djokovic ; born 22 May 1987) is a Serbian professional tennis player. He is currently ranked world No. 3 in singles by the Association of Tennis Professionals . He has been ranked world No.

wikipedia